Cameron Carter-Vickers – one of the youngsters at White Hart Land admits to copying former Manchester United top defender Nemanja Vidic.
The player has been with Hotspurs from a tender age. He seems to have gotten his break into the first team even at the tender age of 18. The Under 23 US international admitted on the club's official website [tottenhamhotspur.com] that he used to copy the popular Premier League defender when he was younger.
"I thought he was quite a tough, resilient defender who would throw his body on the line. Which I try to do," he said.
Spurs would definitely reap bountiful rewards if the youngster is close to the level the Serbian reached at Old Trafford.
Former Manchester United defender NemanjaVidic has revealed that he might have joined Liverpool before signing for the Red Devils.
At that time Liverpool was managed by Rafael Benitez and the latter called NemanjaVidic for a potential move to the club.
NemanjaVidic said that his English was poor at that time, and he had problems communicating with the Spanish manager. He said that if he had a better understanding of English,he might have made the move to Liverpool.
Premier League side Chelsea are set to abandon their long term interest in Napoli star defender Kalidou Koulibaly, particularly as the transfer window edges to a close, reports say.
Coach Antonio Conte has been in search for a defender for long, but various reasons have prevented the deal from happening. Napoli are keen to retain the defender after his sterling performance in the .
It's been a little over a month since Jose Mourinho was officially appointed as the new coach of Manchester United and the Portuguese manager still needs more time to test the waters and find out which formation as well as which players are performing better.
Since taking over at Old Trafford, Mourinho has lead Manchester United to a victory over Wigan Athletic and another triumph over Galatasaray while suffering a defeat after facing off with Borussia Dortmund in the International Champions Cup.
The latest match of Manchester United was against Galatasaray and the Premier League club claimed a 5-2 triumph and Jose Mourinho made a total of 11 substitutions in this friendly encounter as the Portuguese manager still has not truly decided on which combination of players is his most optimal and the 53 year old manager advised his team that they should start getting used to this kind of method.
Red Devils veteran Nemanja Vidic has revealed that he rejected a possible move to Liverpool to join Manchester United. The player made the move from Russian giant Spartak Moscow back in 2005 for £7.5 million.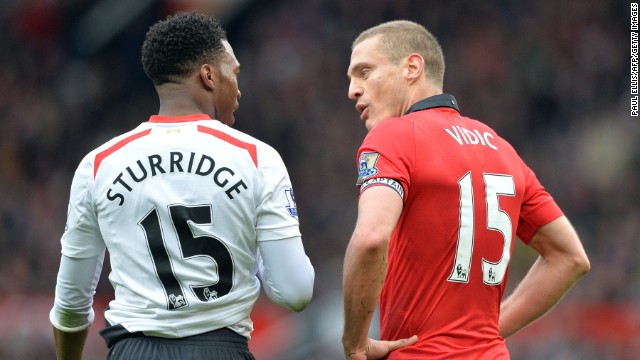 The player struggled in his first six months at the club and was virtually unknown. Eventually, he went on to establish himself as one of the most reliable centre backs in the English Premier League.
The beginning of this year saw one of the star players of Manchester United retiring from football.
He stated that the injuries he had sustained through his career had taken their toll. Nemanja Vidic decided to quit the active career of playing on the field at the age of 34. He was known as a formidable defender on the field. He was part of Inter Milan and he decided to end the contract that had been active. The news of his retirement was announced on the Manchester United website allowing all fans to receive news of the same.
The defender from Manchester United has spent about eight years and more at Old Trafford. He has now decided to leave Inter Milan after mutual agreement with the club. He was captain of Manchester United before he moved to Italy in the year 2014. The news was announced along with a statement about this Serbia international player. The beginning of the year Aston Villa was looking to sign up Nemanja Vidic.
Chris Smalling has stated that NemanjaVidic was more than just a defender during his time at Manchester United.
He believes that Vidic put fear into the opposition players whenever he was on the pitch. He said that NemanjaVidic was a dominant figure at the back, and this provided some security to the other players.
He stated that Vidic was focused on defending. Although he might go forward whenever he had the opportunity, he was more concerned about defending and preventing goals. He said that he was an aggressive player that always does his best in order to block any goal scoring opportunities.
Former Manchester United defender Nemanja Vidic claims that he is looking at the possibility of getting into management.
Numerous injuries forced the Serbian defender to call time upon his stellar career. After spending eight years at Manchester United, he won numerous titles including the Premier league and Champions League. This gave him the mighty experience of playing under Sir Alex Ferguson. He announced his retirement in January while on the books of Italian outfit Inter Milan. His last appearance for Inter was in the 2014-15 season. He failed to make any appearance in the current campaign.
Nemanja Vidic says it's unexplainable why the top quality players from different countries are frequently signing the contracts in China while most of them are young and good enough to play in better leagues around the world.
In the view of the Yugoslavian born Ex-Serbia international, it might be the case of the players listening to their conscience as there are certain points in the lives of the players when they feel this is the correct timing for a particular move and then, they make it. For an outsider, it might seem like a strange and a wrong decision at that time, but, from the players' perspectives, they do what they feel like doing.
Vidic cited the example of himself and talked about the time when he had cut ties with United and had moved to feature in the league in Italy where he remained only for a couple of seasons before bidding adieu to his career.
It's not likely that Nemanja Vidic will be a player of Inter Milan for another season as he has had a difficult time with the Italian club and are rumors are claiming that his time is almost up in San Siro. The Serbian defender has not played a single match in this current season and this is due to a hernia surgery that he sustained in the previous summer.
Vidic hasn't been playing any significant role in the Italian club and there is a big probability that he is going to be transferred away from Inter Milan during the winter transfer window. In the first season that Vidic spent in Italy, he played fairly well but things have taken a huge slip and now his future is starting to seem unclear.